Steve Smith and Nick Beer will be riding one-off 27.5 prototype Devincis for the World Champs in Pietermaritzburg, South Africa. This is Dave Weagle designed Split Pivot bike with a horizontally mounted rear shock that mounts to the downtube and the seat tube; eliminating the rocker link of the other Devinci Split Pivot designs....but adding an interesting looking 'control link'.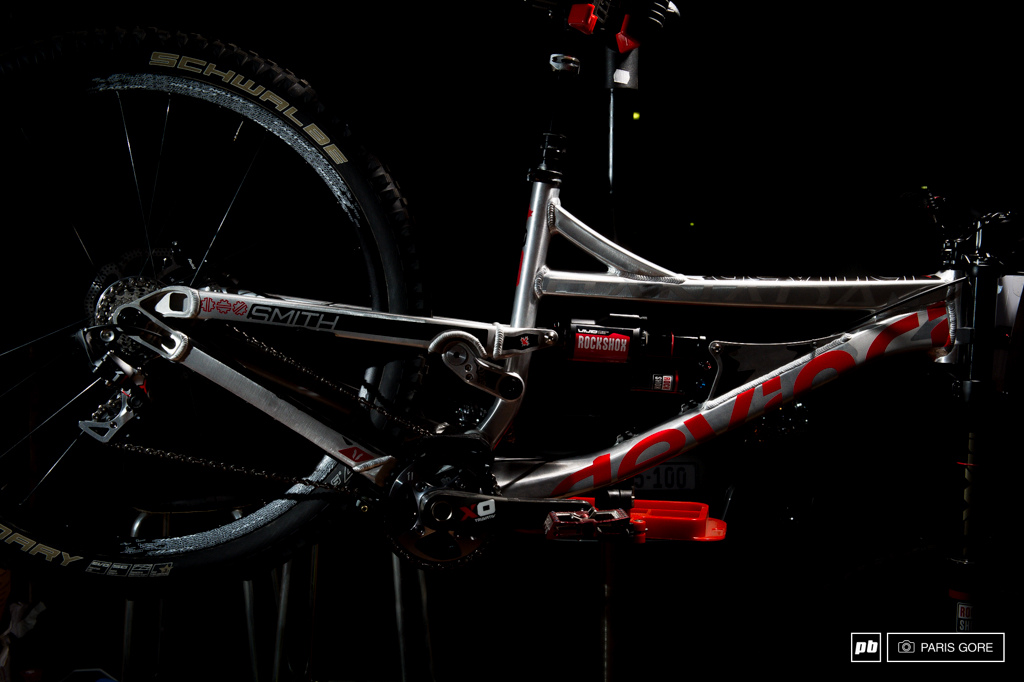 Check the full Pinkbike.com write up here.
The bike is outfitted with a myriad of Black Box (including a never seen before 27.5 Boxxer fork with 175mm of travel) and is said to weigh in somewhere in the 'low 30's'.
'One track, one weekend, and a couple of closely matched riders to design for, that's a really fun challenge, one that I really love being in a position to tackle. If I can help these guys take even a tenth of a second off of their time, then I'm ecstatic. In this case, I'm hopeful for seconds.
'

-

Dave Weagle, designer
'The trick is to understand what each rider's strengths and weaknesses are, and to try to predict what combination of bike setup, rider fitness and style, and track conditions all add up to the least amount of elapsed time on the course. Steve and I spent a good deal of time last fall and winter talking about the current Wilson, this year's schedule, and places that we felt that we could take time out of the course. South Africa was one track where I felt that we could make substantial gains with a different approach than normal.'-

Dave Weagle