The week of August 11th-August 18th was a big one for Devinci and the DGR crew!
*Devinci Global Racing's Steve Smith won 3 races; the Mont Ste. Anne World Cup, the Crankworx Air DH, and the Crankworx Canadian Open. (See details re:
the Mont Ste. Anne Victory here
)
*On the morning of August 14th Devinci
announced to the world
that the
Troy was coming
for 2014.
The Troy (27.5/ 650) features 140 mm of buttery smooth
Dave Weagle designed Split Pivot
rear wheel travel. This is the first 650 model to feature the Split Pivot design.
It will be available in Aluminum and Carbon models with a myriad of builds ranging from the 'RR' X0 1x11 full carbon build @ $6599 to the more moderately priced (but bulletproof and affordably upgradeable!) aluminum 'XP' model at $2999.
All complete builds are spec'd with a 34mm/150mm fork; all carbon models come stock with a reverb stealth dropper post!
Frames are available a la carte as well.
Aluminum frame retail: $1899 (w/ carbon seat stays and RS Monarch RT3)
Carbon frame retail: $2399 (w/ Fox Float CTD Factory Series)
The Devinci Troy 27.5 (SL complete build)

Stevie promptly
won the Crankworx Air DH
on the Troy later that same evening.
Click here
for some pics of the winning ride....and he
Bikerumor.com bike check
All of my pics this week are borrowed from
pinkbike.com
,
vitalmtb.com
, and
bikerumor.com
Please check them out for more in depth coverage and stellar photography! Searching their sites for 'Crankworx' or 'Devinci Troy' will return some tasty tidbits.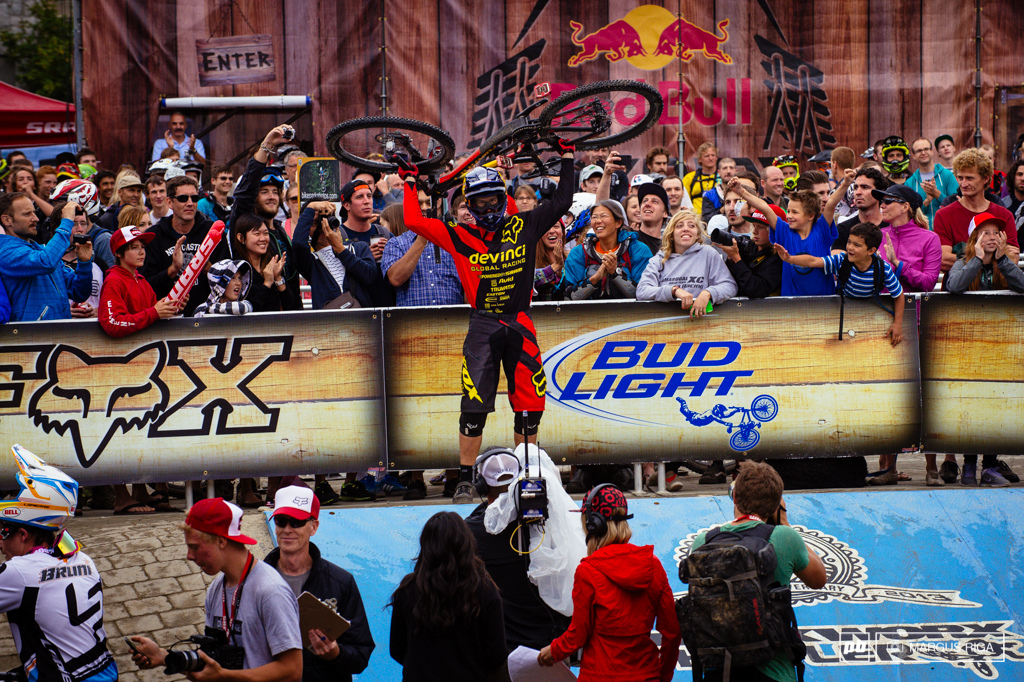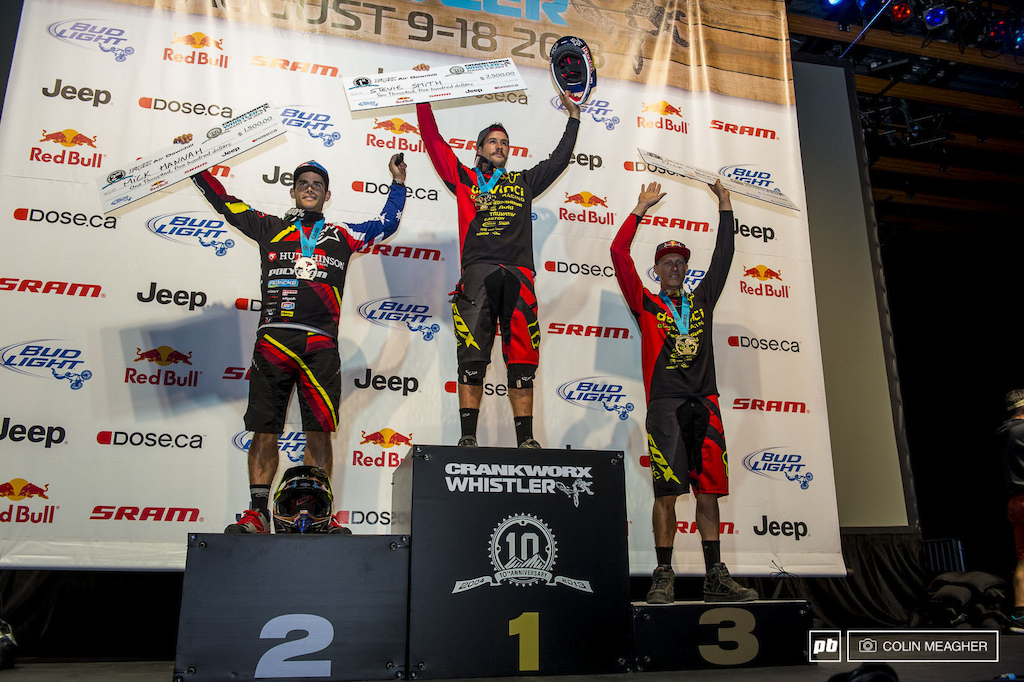 Stevie Smit 1st, Nick Hannah 2nd, and Nick Beer 3rd
Nick Beer also had a great showing at the Air DH with a 3rd place finish. When he completed his run he had a spell in the hotseat as the current 'fastest man down the hill'; the only 2 riders that would best him on the day were 'Sick Mick' Hannah and his own team mate Stevie Smith. Brain Lopes (former consecutive 5 time winner) slotted in with a 4th place finish.
Here is a 'spy' pic of the rig:
We know it's fast, but what is it? Is it another 27.5? Is it 160mm of travel?
More info to follow. In the meantime, let the rumor mill churn!
Stevie finished off a stellar week with is 3rd win of the week (in 3 races) and his 3rd consecutive win in the
Crankworx Canadian Open DH
on Sunday the 18th. Last year he swept Crankworx by also winning the Garbanzo DH; this year the Garbanzo race was only 2 days after his WC win in Mont Ste. Anne...he didn't race the Garbanzo this year in favor of dominating the other 2 Crankworx events.
The win at MSA was stellar.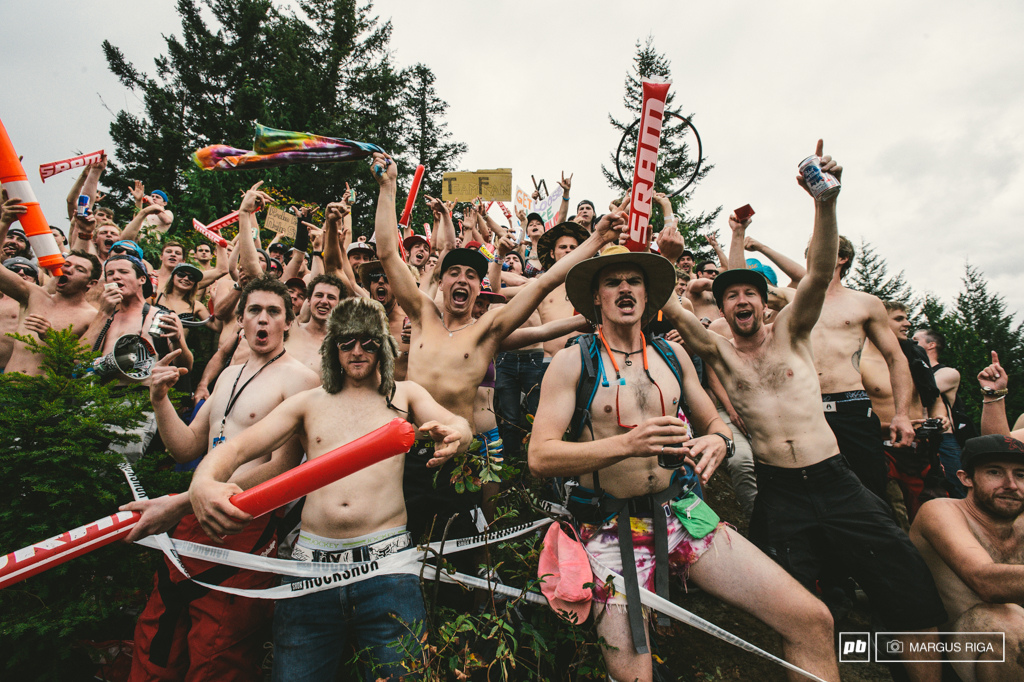 The Hecklefest
Things get weird on the rock...
One helluva week Stevie! Congrats.